CRM Added to Our App
By Adam Scott Posted July 26, 2020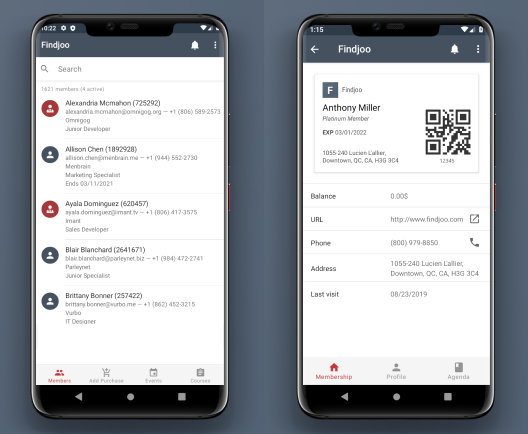 The team here at Findjoo is excited to share that we have released version 2 of our app. While there are a lot of great things about this new version, we want to let you know about how we added the "CRM Page" to our app. We are already proud of the way we have made customer's lives easier through our app and this is just one more way that we are bettering our app so our users can enjoy it even more. Let's take a closer look at what this means for you.
About the CRM Page
The main update here allows you to better manage all of your contacts. You can see all of the information on your clients/members, which is listed just as you can see it on our website. You are able to easily search the entire database,
updating records easily and efficiently
as you need to. This can simplify the process of managing your all contacts, in one convenient location.
How This Helps You
One of the concerns that you may have about this is how vulnerable your database is going to be. This is a password protected app, meaning that your information is safe with us. Not only does this offer you the security that you want, you also get the efficiency of managing your information in one convenient location. This is a feature that people often pay for by itself in an app, let alone with all of the other incredible features that our app offers you.
In addition to the peace of mind that you get from using a password protected app for your management needs, there are plenty of other ways that an app like this can benefit you. You also get to streamline your database in one convenient location. Did someone leave the organization? Do you need to quickly add new members? All this can be achieved thanks to our Findjoo app. The most
important benefit is the efficiency that you get
. Instead of having to go between multiple apps or websites, you have one location where you can access your entire database right at your fingertips.
You can track all of the information that you need about each of your clients, which is especially convenient if you have a lot of contacts that you need to manage. This password protected app gives you peace of mind and
efficiency
.
In Short, This New Feature Can:
See all contacts and their information listed like on our website.
Easily search the database and update records.
Everything is password protection, offering you the security that you need.
When you have customers and members, especially as a larger organization, you want an easy to use management tool that allows you to efficiently access and update the information as you need to. Instead of settling for a process that doesn't work for you, Findjoo offers you real solutions to help you better run your organization. Our app offers you all of the features that you need to run your organization efficiently and effectively.