SFAA Newsletter July 2021
We are an independent non-profit organization run by San Francisco Art Institute alumni. We build upon SFAI's
150-year alumni legacy with a commitment to SFAI's core values of critical thinking, exploration, and expression.
TWO VIEWS OF SHARON GRACE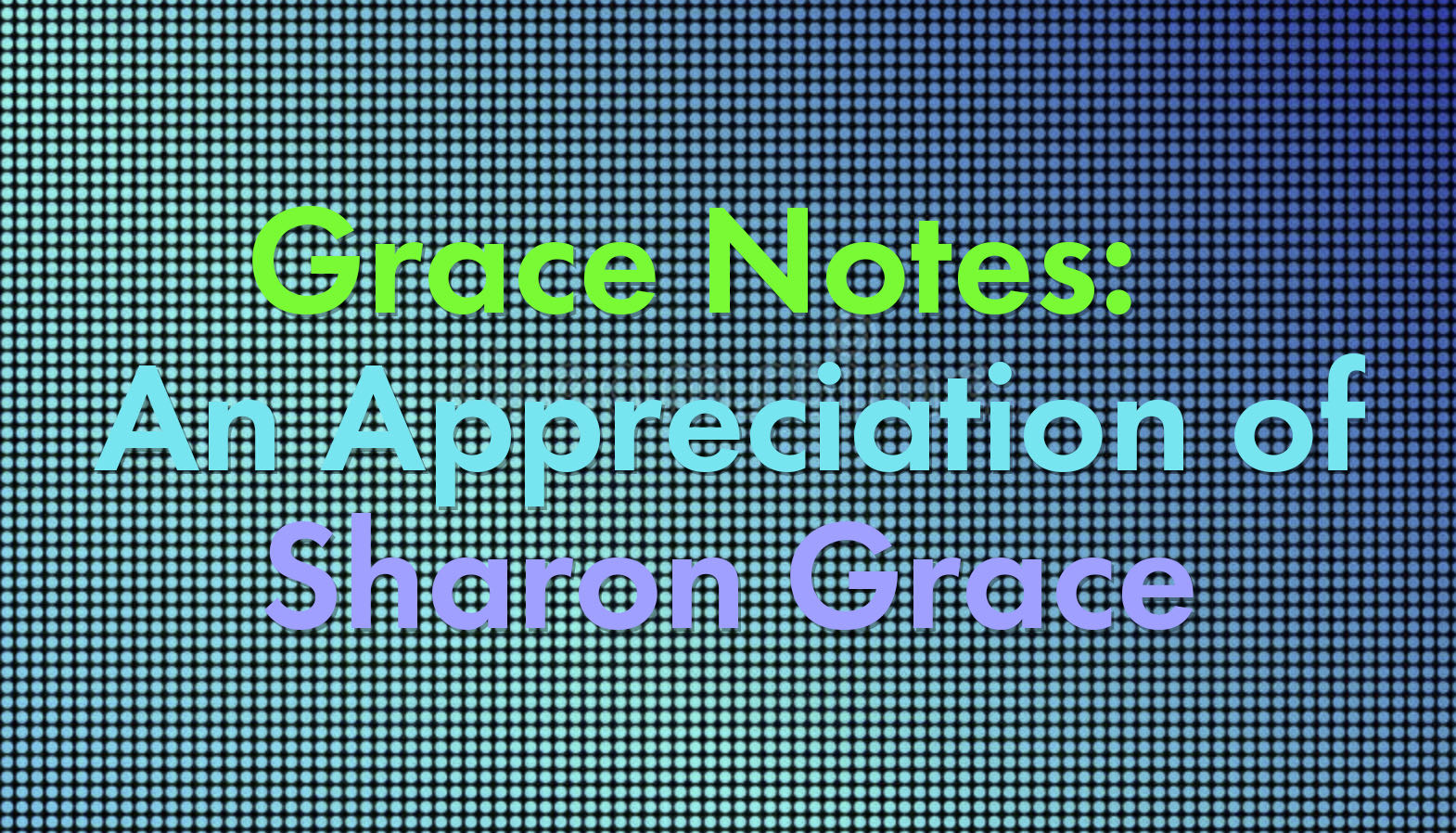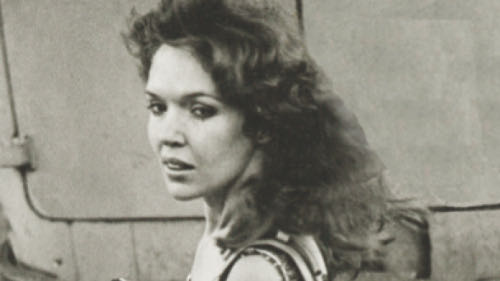 "I was immediately taken by her intelligence, sensitivity, experience, and beauty. Sharon was an art-pioneer, exploring and working at the intersection of art and technology. This was even more of an achievement given that she was a woman in a mostly male-dominated world, especially at that time."
------Kathy Brew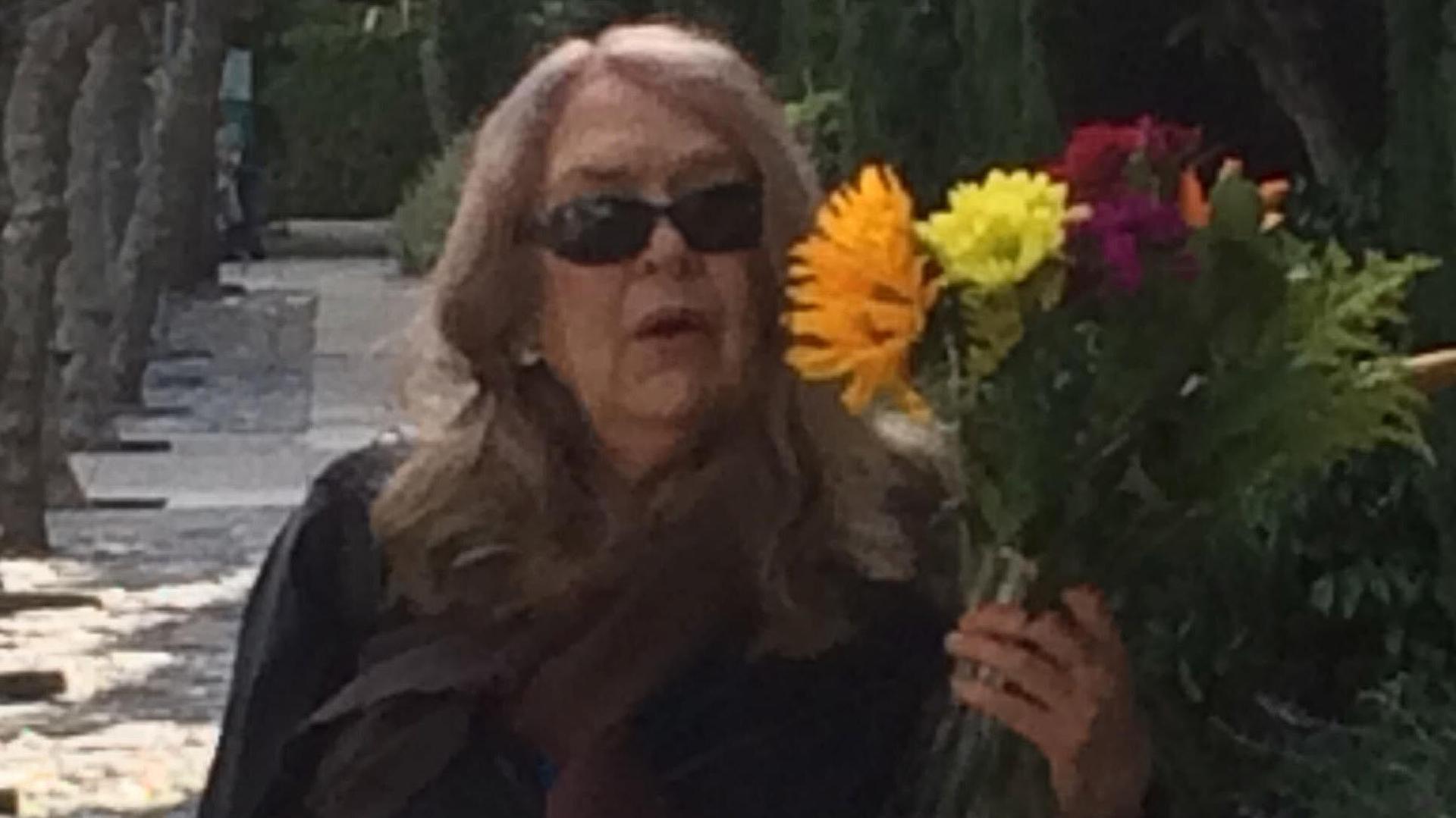 Sharon Grace's last day of teaching
"I was always struck by how much she lived in The Future and seemed largely inconvenienced by present reality. She couldn't wait for the future to come and did her best to make it happen."
------Dale Hoyt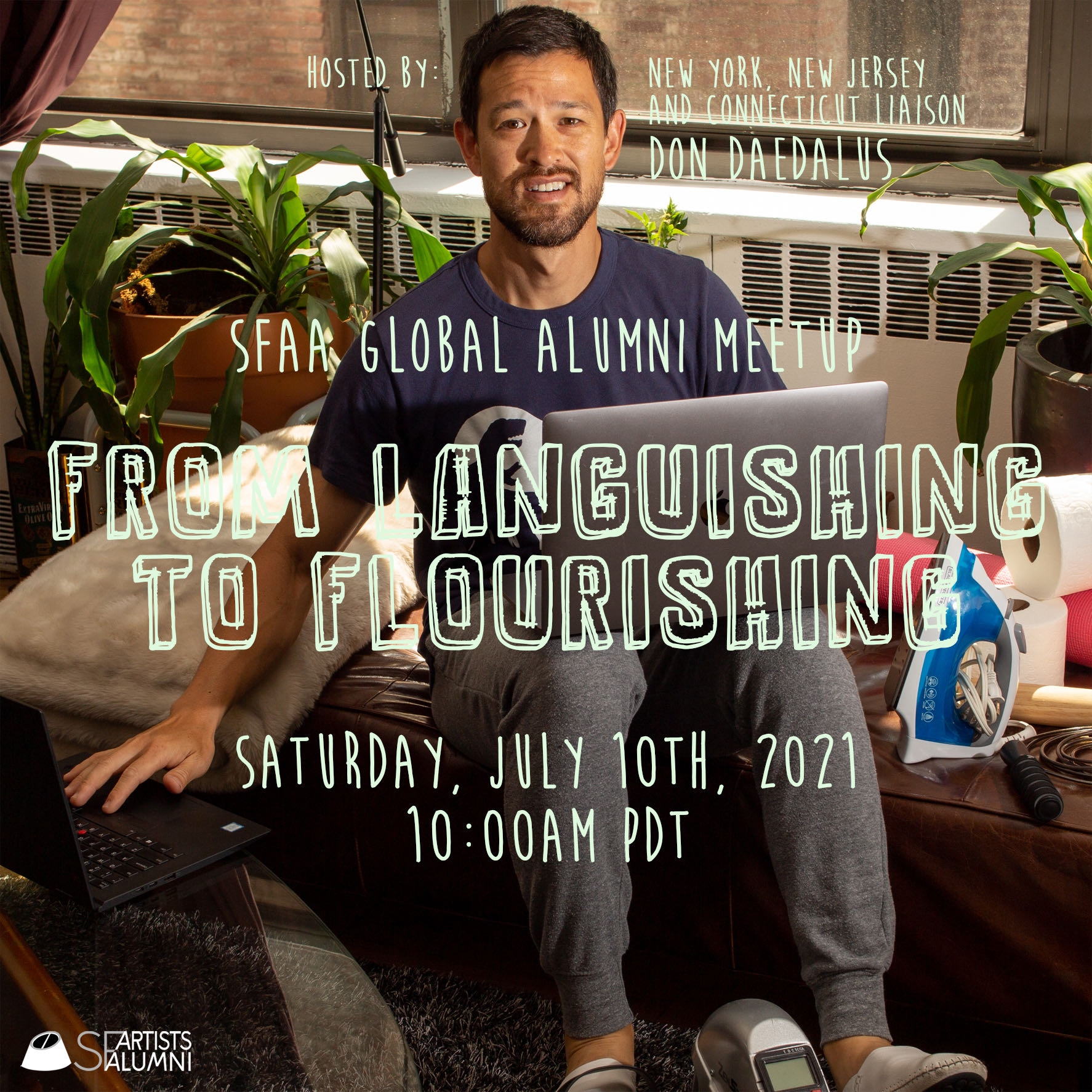 Likely the dominant sentiment of 2021, languishing is like treading water in a joyless cocktail of apathy. Naming the sentiment brings it to our forefront, allowing us to diagnose and treat it. So how do we get from languishing to flourishing? One antidote: get into states of flow, uninterrupted time periods focusing on something that's meaningful. Log off of Facebook and make some art.
Coming up on Saturday, July 10th at 10am PDT is the next global alumni meetup From Languishing To Flourishing hosted by New York, New Jersey and Connecticut Liaison Don Daedalus.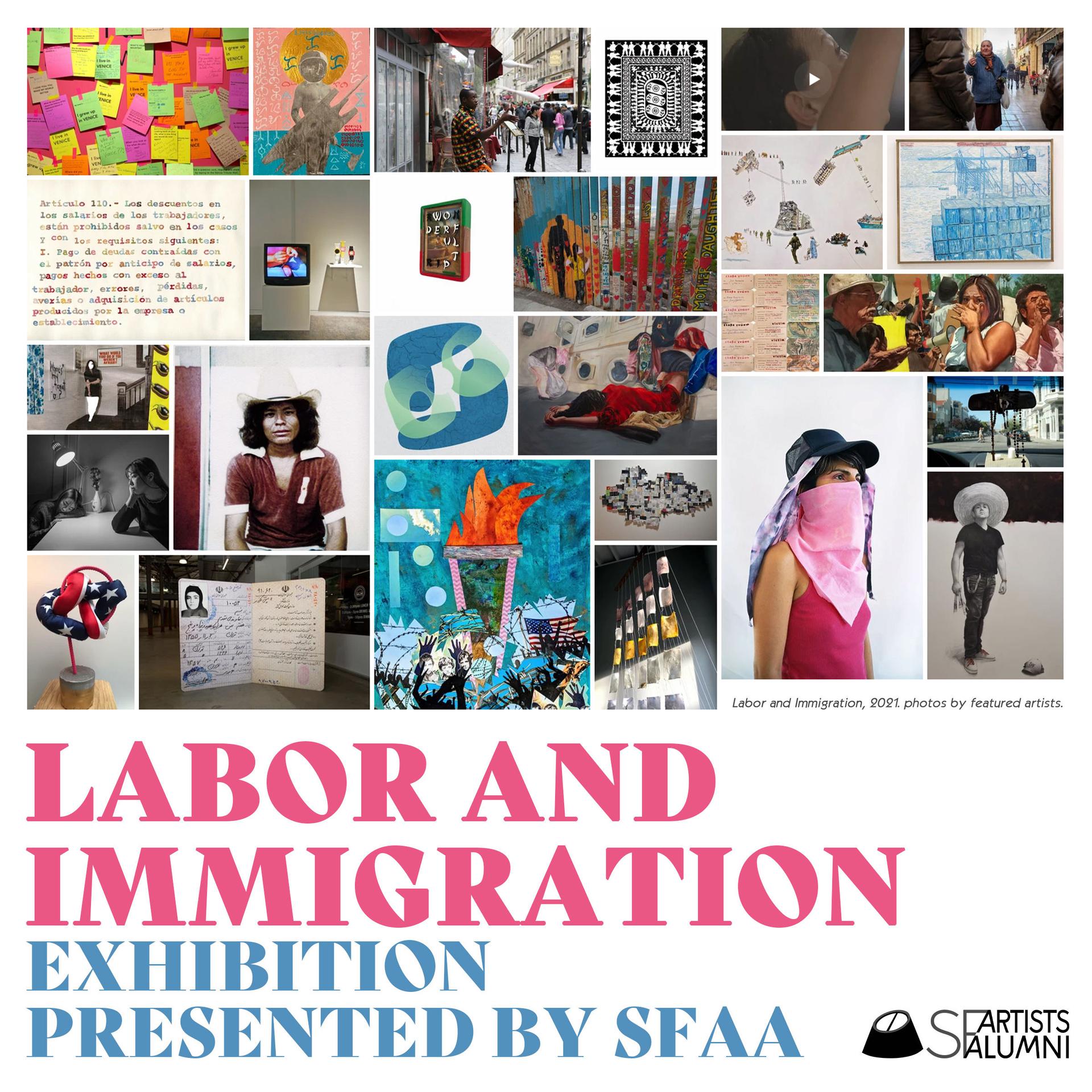 Image by the Labor and Immigration featured artists
SFAA has launched the Labor and Immigration exhibition project seeking photos & videos that respond to this topic. This exhibition will take place over two months on the SFAA Instagram Exhibitions Platform @sfartistsalumni, starting in June and continuing through late July.
View the exhibition HERE.
Watch the panel discussion HERE.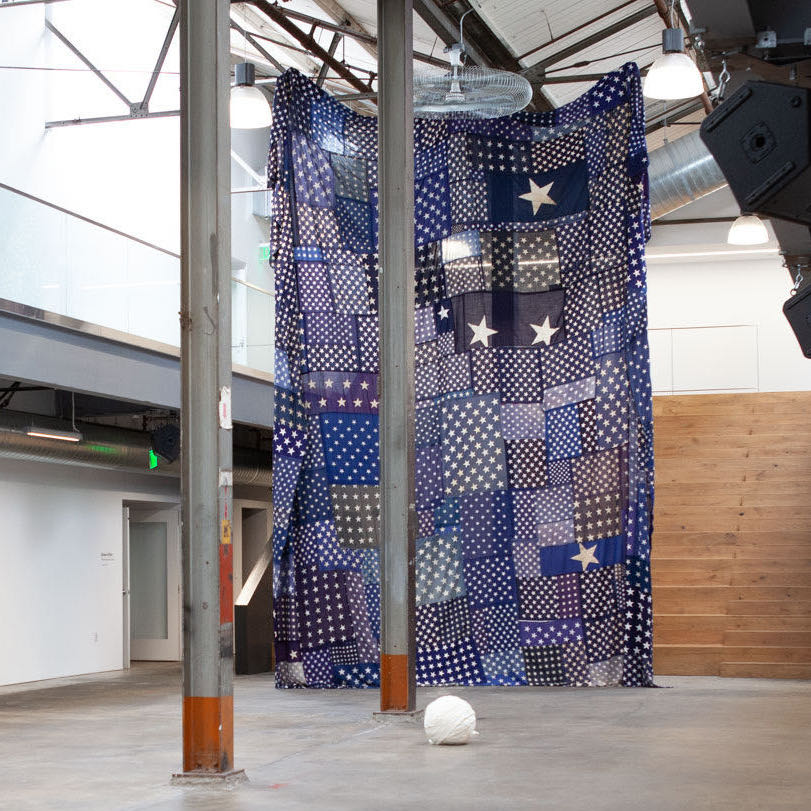 Joyce Burstein, The Flag of The Night Sky. Photo by Kim Anno
Featuring artists: Katie Dorame, Leila Weefur (SFAI Instructor), Josef Jacques (SFAI Instructor), Joyce Burstein (BFA 1982/MFA 1985), Yee Jan Bao, Wendy Liang, Kyung Lee.
Anglim/Trimble Gallery
1275 Minnesota Street, San Francisco, CA 94107
Read more HERE.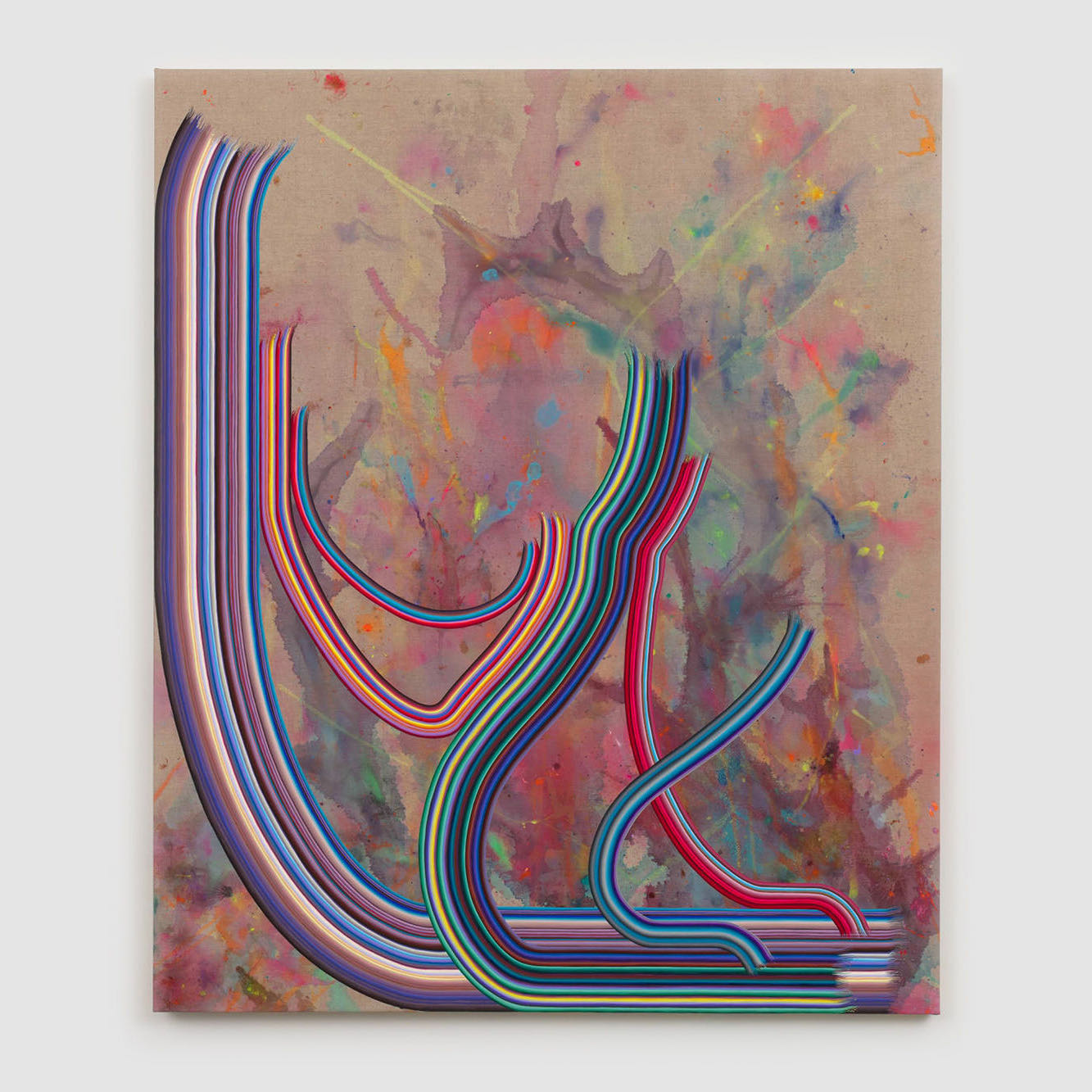 Dani Tull, Send Vessels as Sentences at Dawn (Rilke in LA).
Photo by Robert Wedemeyer
Diane Rosenstein Gallery is pleased to present a solo exhibition of new paintings by Los Angeles- based artist Dani Tull (BFA 1988).
Diane Rosenstein Gallery
831 N Highland Avenue, Los Angeles, CA 90038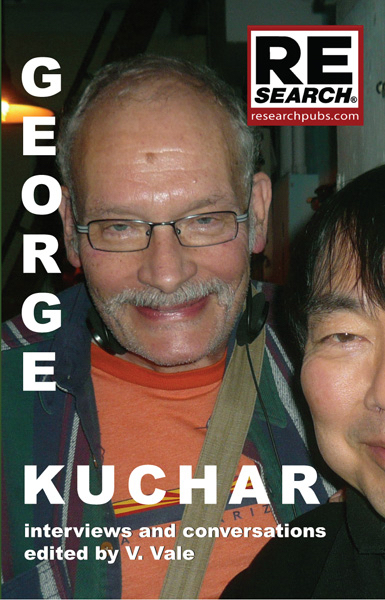 Now you can have this handy pocket-sized paperback on the master filmmaker with you at all times. Includes the most comprehensive filmography for George Kuchar (taught film at SFAI from 1971 to 2011). And lots of pictures and drawings! Fits in your purse or back pocket for only $15.00.

Order your copy of George Kuchar: Underground Film Icon from RE/Search Publications.
Our 1st Anniversary T-shirts designed by Nona Haydon (BFA 2014) or Lior Bar (MFA 2008) and Michal Wisniowski (MFA 2013) are available to shop now!
Grab yours HERE!
Many thanks to Kathy Brew, Dale Hoyt, Don Daedalus, Beth Davila Waldman, Toban Nichols, Cristina Velazquez, Anglim/Trimble Gallery, Joyce Burstein, Kim Anno, Diane Rosenstein Gallery, Dani Tull, RE/Search Publications, Lior Bar, and everyone who worked for SFAA.
Editors: Annie Reiniger-Holleb, Lucien Liu, Marian Wallace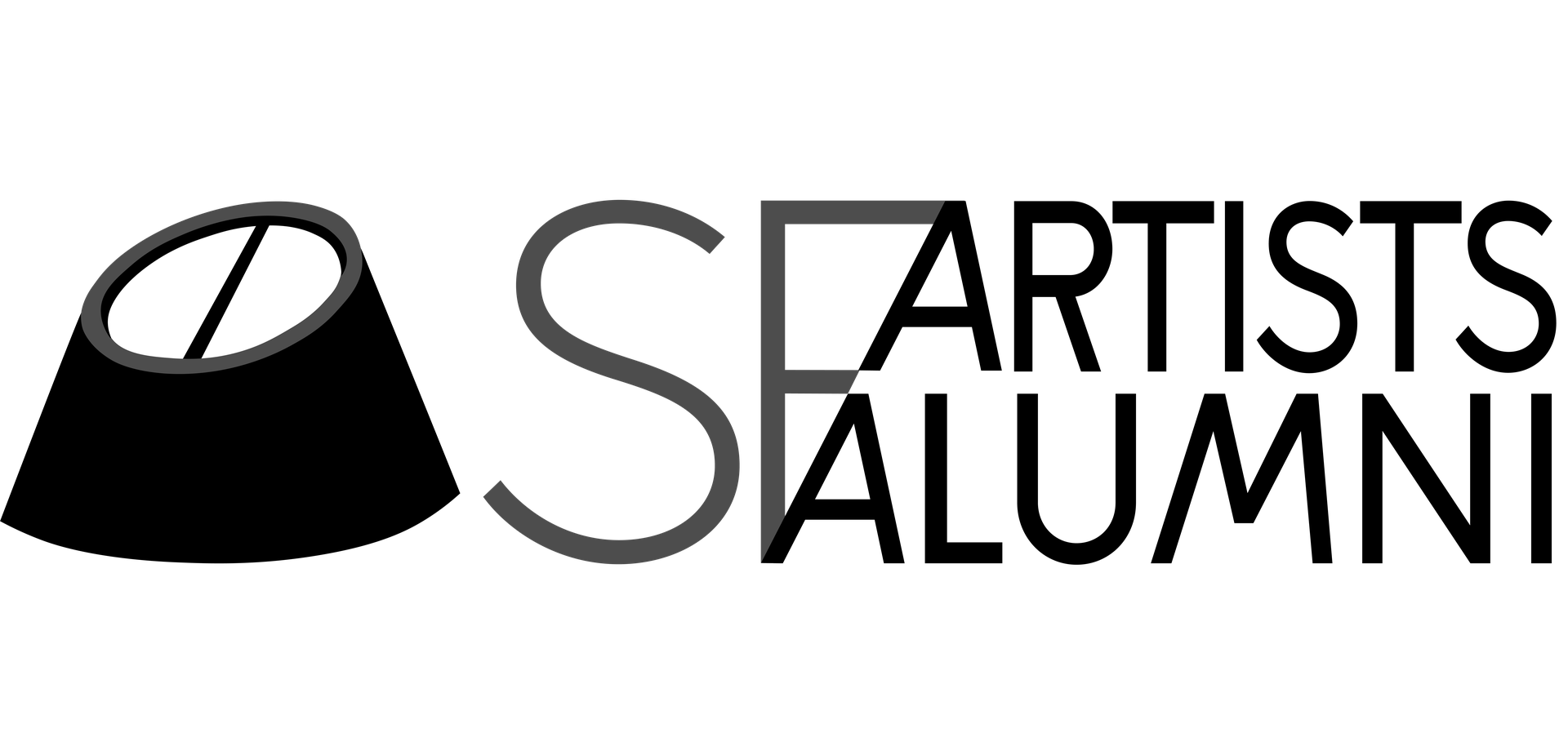 To contact the Editors at SFAA Newsletter email: SFAA2News@gmail.com
Or send letters to our address: Editors SFAA Newsletter 3019 Ocean Park Blvd. #123, Santa Monica, CA 90405
SF Artists Alumni Inc. is a non-profit, 501(c)(3) organization and our EIN Federal Tax ID number is 85-1943816.
Your contribution is tax-deductible to the extent allowed by law.