SFAA Newsletter October 2022
We are an independent non-profit organization run by San Francisco Art Institute alumni. We build upon SFAI's

150-year alumni legacy with a commitment to SFAI's core values of critical thinking, exploration, and expression.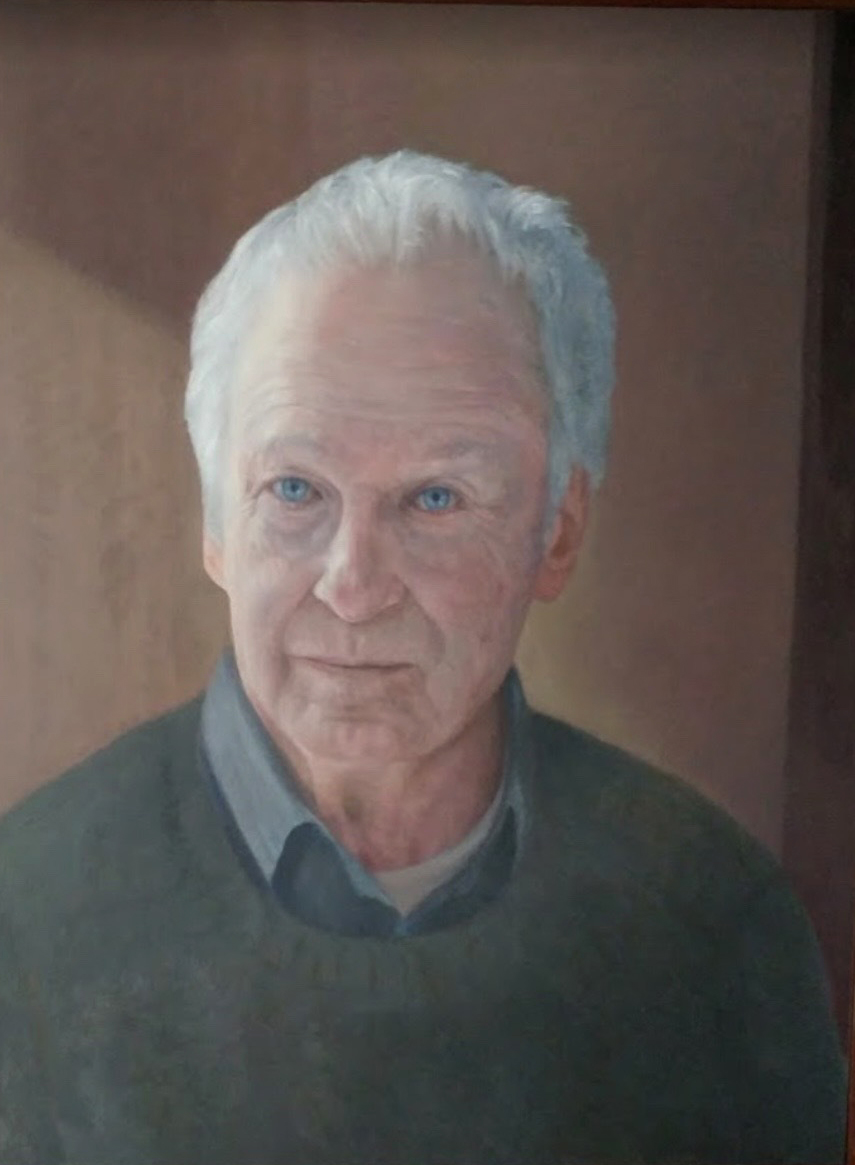 Fred Martin 1927-2022, professor Emeritus + SFAI's President from 1965 to 1974; Dean 1983 to 1992; and Art History & Painting Faculty. Fred took classes at the School with David Park, Clyfford Still, and Mark Rothko, while at the same time enrolled in the UC Berkeley Art Program with fellow students Jay DeFeo and Sam Francis. When Allen Ginsberg first read Howl at the "6 Gallery" in 1955, Fred's sculptures were being exhibited there. Fred started working at the School in the 1950s, organizing exhibitions and the "Art Bank." In 1965 Fred became Director/President of SFAI, handing off exhibitions to James Monte and then Phil Linhares. Fred retired from his administrative duties at SFAI in 1974 to teach painting and art history, although he returned to the Dean's role from 1983-1992. He remained an esteemed teacher to legions of SFAI students until 2019. Fred initiated a SFAI travel class to China in the 1980s, wrote a weekly column for Artweek during the 1980s and 1990s, made fine press artists books.
Thank you, Fred for keeping the SFAI Spirit alive for so many generations of artists!
— Jeff Gunderson
Join us with Oliver Hawk Holden (BFA 2016) on Monday, November 7, 2022⁠, 10:00 AM for our second SFAA Spotlight!
Oliver Hawk Holden is a San Francisco-based artist whose work takes a satirical, yet deeply intimate look at the world and pulls mostly figurative imagery of distinct moments into semi autobiographical figurative collage. His practice includes kinetic sculpture, video, painting and installation. His work has been featured in Juxtapoz and he has exhibited at SFMoMA, Evergold gallery, On Approval, Incline Gallery, R/SF Gallery and FaceBook AIR Mural Residency San Francisco.

Alongside his art practice, Holden is a co-founder of Expert Art Service, a fine art services company that provides art installation and general art handling services to the Bay area. He holds a degree in sculpture from the San Francisco Art Institute (BFA), where he studied under John Defazio, Alicia McCarthy, Terry powers, and Jeremy Morgan.
Marian Wallace at SFAI.
Photo by V. Vale.
"What's happening with the Art Institute? I get that question still, though not as often as I used to. It's not getting much easier to answer—yet. Though that could change any month now—or any day? Mid-No- vember is the new "trigger moment" when SFAI as a non-profit entity will either have enough funding to last until December OR start 2-week bankruptcy preparation ("hand to mouth" so to speak). There are some things "in the works" that could extend the life-support situation, but they have to produce actual money. There are also ideas being discussed that would even posit a complete reprieve. Reportedly, it currently costs about $200k per month for baseline rent/misc to keep the school campuses "solvent" enough towards hope- fully "figuring out something for the long-term"."
— Marian Wallace (BFA'80, MFA'82), alumna, SFAA board member, former SFAI ajunct faculty member, SFAI neighbor
The school has closed but signs of activity persevere. Decisions are being made by the six-member Board of Trustees. Here is some information about the ever-evolving status:
The new SFAI Foundation is up and running
The librarians are working on the archive
A security firm continues to watch the Chestnut Street campus 24/7
3-4 contract "workers" on the job as needed
Fallen leaves are blowing around the courtyard hallways
Six-person SFAI Board of Trustees is trying to get to the next place
Rent is being paid month-to-month
Read the full update of SFAI HERE.
Nan Goldin in All the Beauty and the Bloodshed, 2022.

Congratulations to Laura Poitras (SFAI 1989) who won the Golden Lion award for Best Film at the 79th (2022) Venice International Film Festival. Her film All the Beauty and the Bloodshed is a documentary film (2022) which explores the career of Nan Goldin and the fall of the Sackler family, the pharmaceutical dynasty. Read MORE.

Film viewing dates at Lincoln Center.
Image:

Thomas Houston, Hendy (Along the Navarro River).

Annie Reiniger-Holleb, Deliria #2.

Linda Connor, Once the Ocean Floor, Ladakh.

Curated by Judy Gittelsohn (MFA'79), FOMENT features artwork by more than 50 practicing artists from around the world. Each person attended or taught at the San Francisco Art Institute, which closed permanently, after 151 years of operation, in July of 2022.

Read MORE.


FOMENT Artists Reception
Sunday, November 13, 2022, 1 – 5 PM PST

Studio Judy G

430 Main Street, Watsonville, CA, 95076
Cover of Maya Deren, Choreographed for Camera.

Saint Lucy Books, 2022.

This first full biography of Maya Deren is based on years of research and interviews with some of Deren's closest collaborators, and is generously illustrated with film stills and photographs. Author Mark Alice Durant (MFA'85) creates a vivid and accessible narrative exploring the complexities and contradictions in the life and work of this remarkable and charismatic artist.

More details and get your copy HERE.

Read the Mark Alice Durant interview by Kathy Brew about his previous book HERE.
Photo by Weird California.

"Once an old cemetery was next door to where the San Francisco Art Institute was built. But in the early nineteen hundreds as buildings were rebuilt after the 1906 earthquake and more space was necessary, several cemeteries were built over. In 1926, the San Francisco Art Institute was built next to and perhaps partially over a Russian Hill cemetery.


The SF Art Institute was founded in 1871 by artists, writers, and community leaders. On January 15th, 1927, it opened at its current location and with its red tiled roof, adobe ocher colored walls, and mission like bell tower rising from its courtyard patio, it is a very good example of Spanish Colonial Revival architecture.


Because the spirits of the dead were disturbed by the destruction of their cemetery, ghosts are said to be plentiful in the neighborhood. Lights turn off and on and sometimes off again for no reason. Doors open and shut by themselves. Power tools have turned on and off. Screams and noises have randomly been heard. And footsteps have been heard climbing the stairway of the tower."

Read more HERE.
Kiss in the SFAI tower.
Screenshot from video by Annie Reiniger-Holleb.

"July 15th 5:05 pm was SFAI's last moment of being open to the public. Librarian, Jeff Gunderson headed out the door, but Becky Alexander continued working. I asked her if I could go up into the tower. "Yes!" she said. Here's a video of my climb for those who never made the trip. I don't know much about the contents in the boxes you'll see, but I had thought that Clyfford Stills and Mark Rothko had painted up there. Turns out that isn't true (although it turns out they had studios in the library where the offices and glass cases are today). I have a fear of heights soooo ... hope my iphone filming doesn't make you dizzy!

P.S. the only ghost I saw in the tower was in a painting hanging on the wall up there. "

— Annie Reiniger-Holleb (BFA'80)

Watch the SFAI Tower Tour in 2022 by Annie HERE.
From SFAI Library Archives.

To all alumni: we continue collecting of photos for our Chestnut Street Photobook project.


Thanks for everyone who has contributed photos so far! Please help spread the word to get images from as many alumni as possible. We specifically would like to get photographs from your time on campus at 800 Chestnut Street.
SFAA is an all volunteer nonprofit organization servicing SFAI Alumni.
We ask for your donations to help us fund the website, databases, slack, zoom, Insurance etc.

We have goodies for your generous donations starting $5 monthly donations and up.
GET 1 I LOVE SFAI pin (comes in blue or red) for $60 or a $5 monthly donation for one year.
GET 1 SFAI pen for (slender green or fat black) for $60 donations or $5 monthly donation for one year.
GET 1 George Kuchar (mini) book for a $100 donation. Underground filmmaker George Kuchar is interviewed by RE/Search founder V. Vale in San Francisco, about the history of his low-budget filmmaking. He generously gives advice, do's and don'ts, recommendations, and sparkling anecdotes which illuminate practically the entire process of making a film with virtually no budget
GET 1 Carlos Villa: Worlds in Collision catalogues to first come first serve for donation larger than or equal to $240 donation or $20 monthly donation for a 1 year. (We have 10 in stock)

Is your voter registration up to date?

Do you know your polling place?

Do you know your states deadlines?

Deadlines to vote by mail/absentee vote?

Use this handy guide USAgov link HERE
Many thanks to Jeff Gunderson, Oliver Hawk Holden, Marian Wallace, Laura Poitras and Nan Goldin, Judy Gittelsohn, Mark Alice Durant.
Editor in Chief: Annie Reiniger-Holleb
Designer: Lucien Liu
Co-Editors: Marian Wallace, Rye Purvis
To contact the Editors at SFAA Newsletter email: news@sfartistsalumni.org
Or send letters to our address: Editors SFAA Newsletter 3019 Ocean Park Blvd. #123, Santa Monica, CA 90405
SF Artists Alumni Inc. is a non-profit, 501(c)(3) organization and our EIN Federal Tax ID number is 85-1943816.
Your contribution is tax-deductible to the extent allowed by law.