SFAA Newsletter September 2021
We are an independent non-profit organization run by San Francisco Art Institute alumni. We build upon SFAI's
150-year alumni legacy with a commitment to SFAI's core values of critical thinking, exploration, and expression.
INTERVIEW OF LINDA MONTANO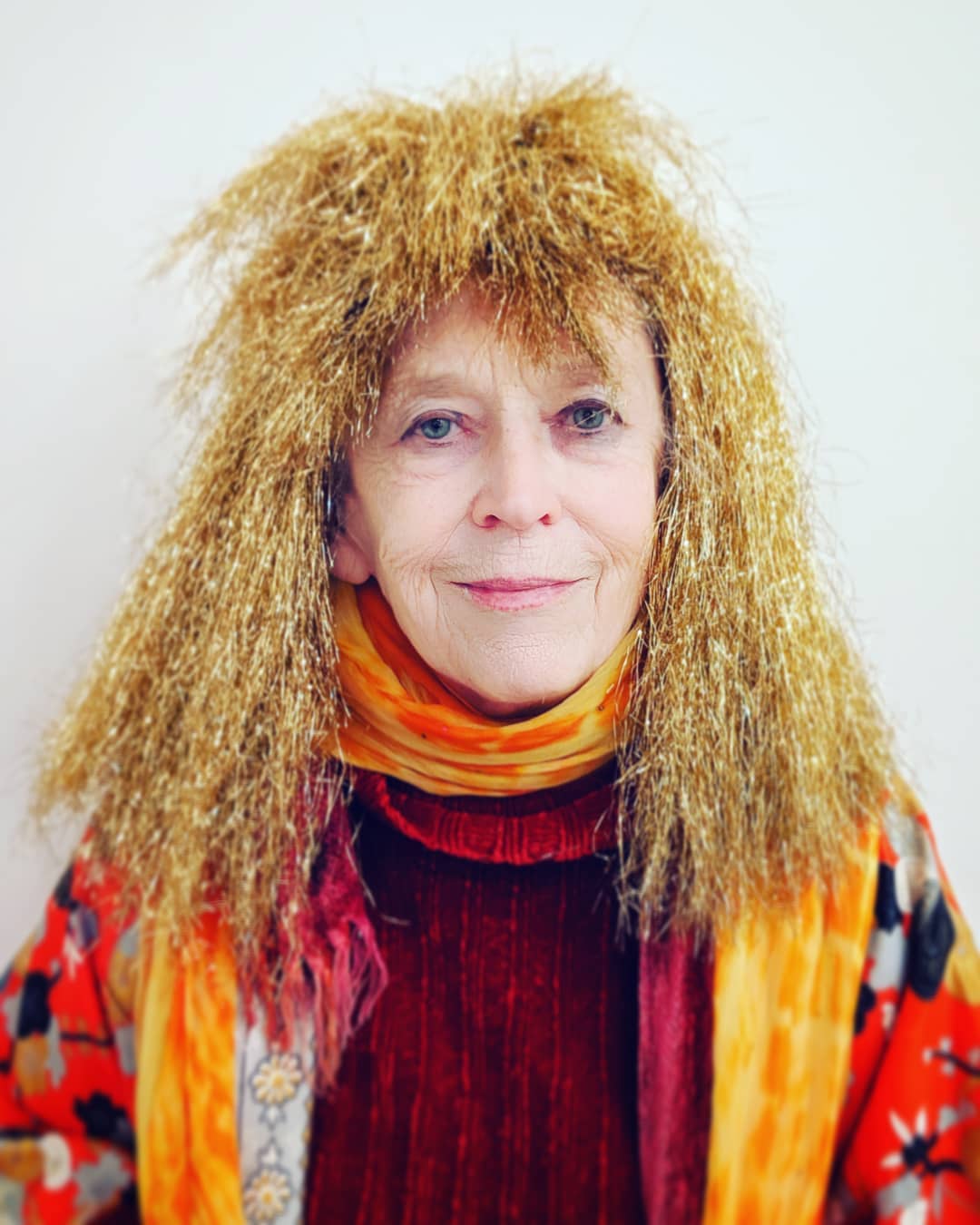 Linda Mary Montano.
Photo courtesy of the artist
"...And all I can say is that the minute I entered the Art Institute, I felt stars in my eyes—I felt great joy whenever I entered the Chestnut Street building. Having lived in convents and Zen centers and Tibetan centers and ashrams, I felt that the Art Institute was like an art church that I loved and needed and wanted, and will always treasure..."
THE SVANE FAMILY FOUNDATION
Alicia McCarthy, Untitled, 2020.
Courtesy of the artist and The Svane Family Foundation
ARK is The Svane Family Foundation's inaugural program. Its core mission is to support artists to continue creating art during this challenging time. The foundation commissioned artwork from 100 Bay Area artists for an exhibition and auction. All proceeds from the program will benefit ArtSpan.

Congratulations to our alumni for receiving the ARK Award: Adrian Burrell, Alicia McCarthy, Barry McGee , Casey Gray, Cliff Hengst, Davina Semo (Faculty), Gina Contrearas, J. John Priola, Jeremy Fish, Justin Hoover, Linda Connor (Faculty), and Ruby Neri. View the full artist list HERE.
Ark Exhibition + Auction schedule:
[ONLINE] September 16th: Online auction live through ARTSY
[IN-PERSON] September 16th - 25th: Svane Family Foundation Ark Exhibit at SFAI Fort Mason
Stay tuned through @svanefoundation for more ARK events.
* The Svane Family Foundation is a private family foundation in San Francisco, dedicated to supporting the vitality of Bay Area Artists and Arts Organizations.
** Mask and vaccination required for viewing the exhibition in-person.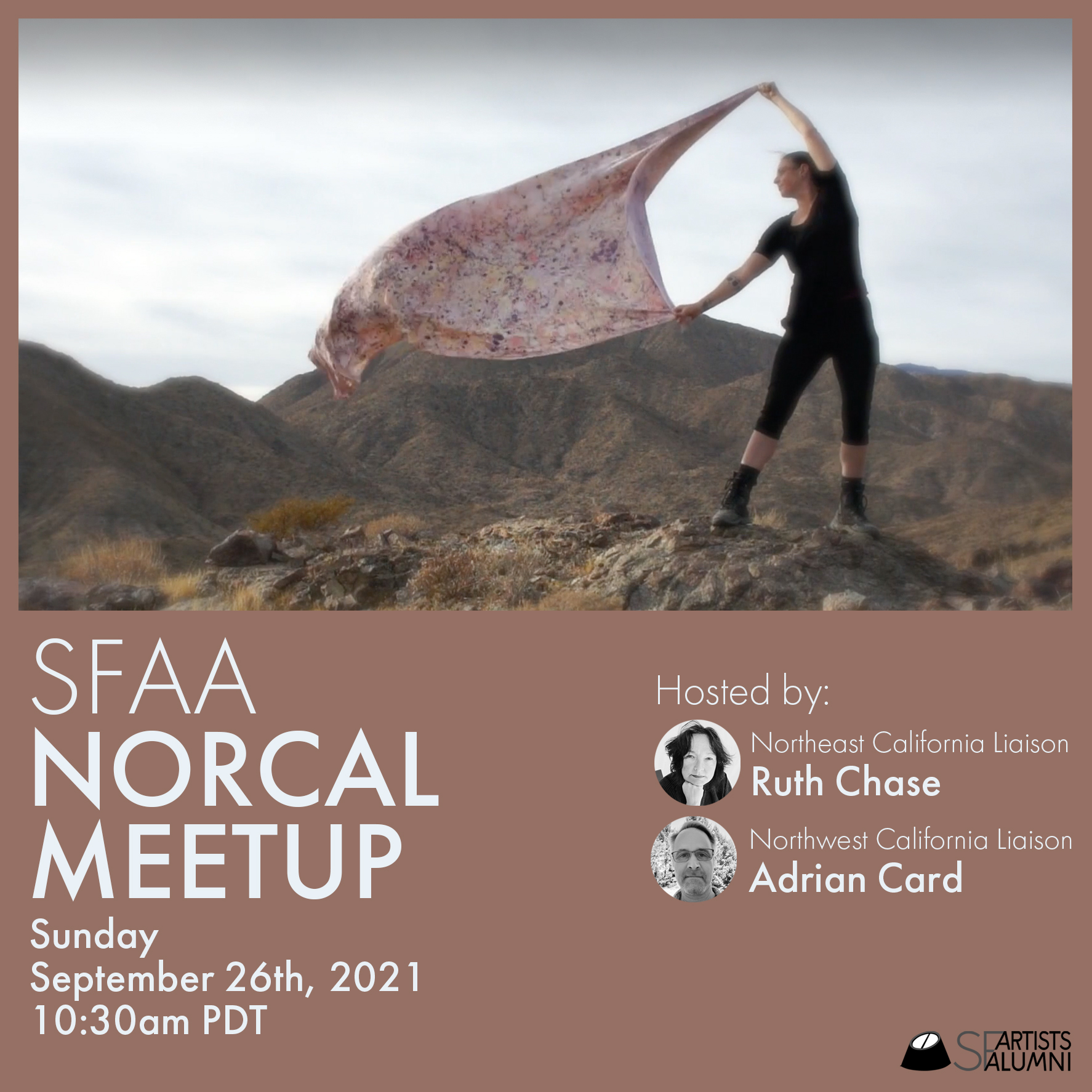 Photo courtesy of Heather Jones.
Northeast California liaison Ruth Chase and Northwest California liaison Adrian Card are hosting the SFAA NorCal Alumni Meetup on Sunday, September 26, 2021, 10:30 am PDT, and this month we will be looking at the work of Heather Jones.
NorCal meetup is on every fourth Sunday of the month. All alumni are welcome to join in, regardless of geographical location!
EXHIBITIONS & PUBLICATIONS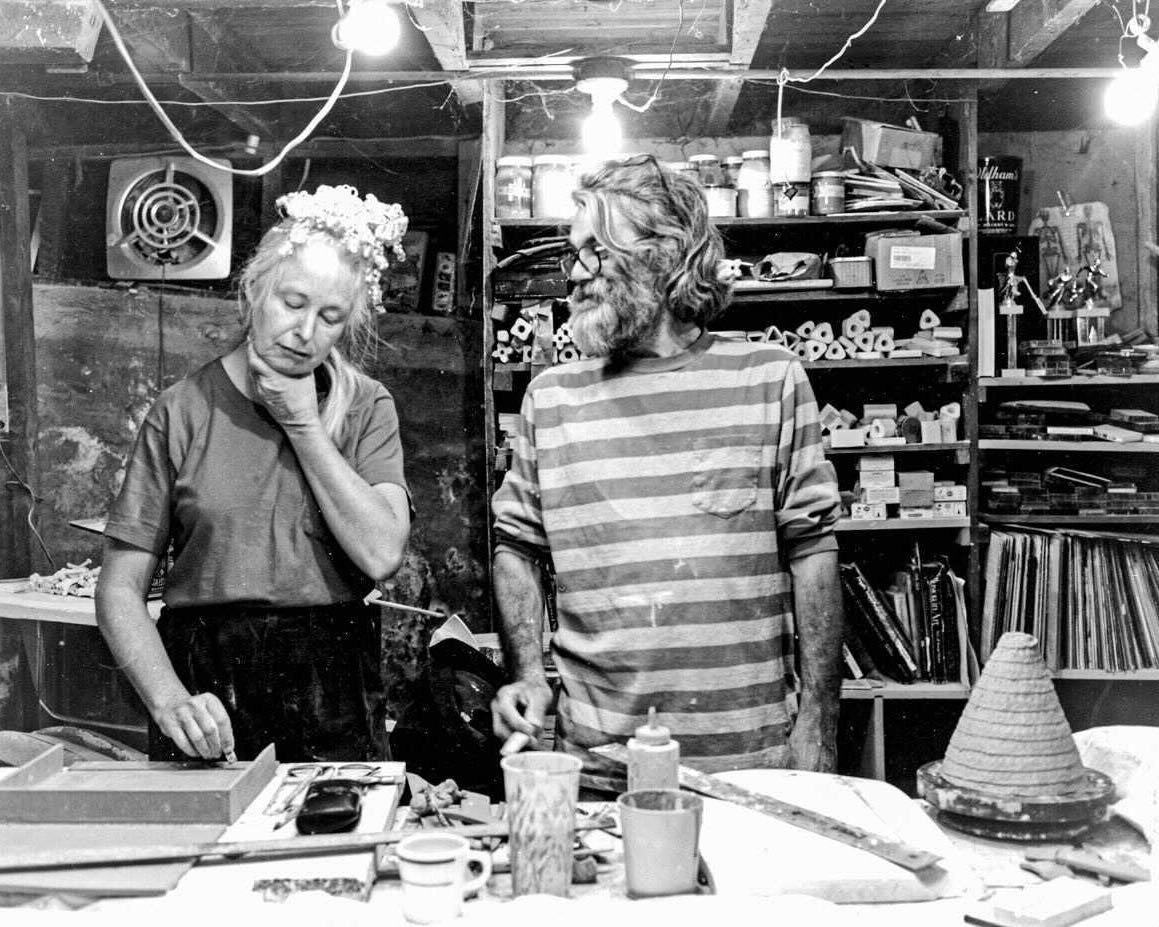 The Shaws in the Studio, circa 1991.
photo by Lewis Watts.
Anglim/Trimble is presenting Martha Shaw (BFA '66) and Richard Shaw (BFA '65). Both are alums and Richard taught for many years at SFAI. Read MORE.
Opening in-person reception is on September 11, 2021,3–5 pm PDT.
Anglim/Trimble
1275 Minnesota St, San Francisco, CA 94107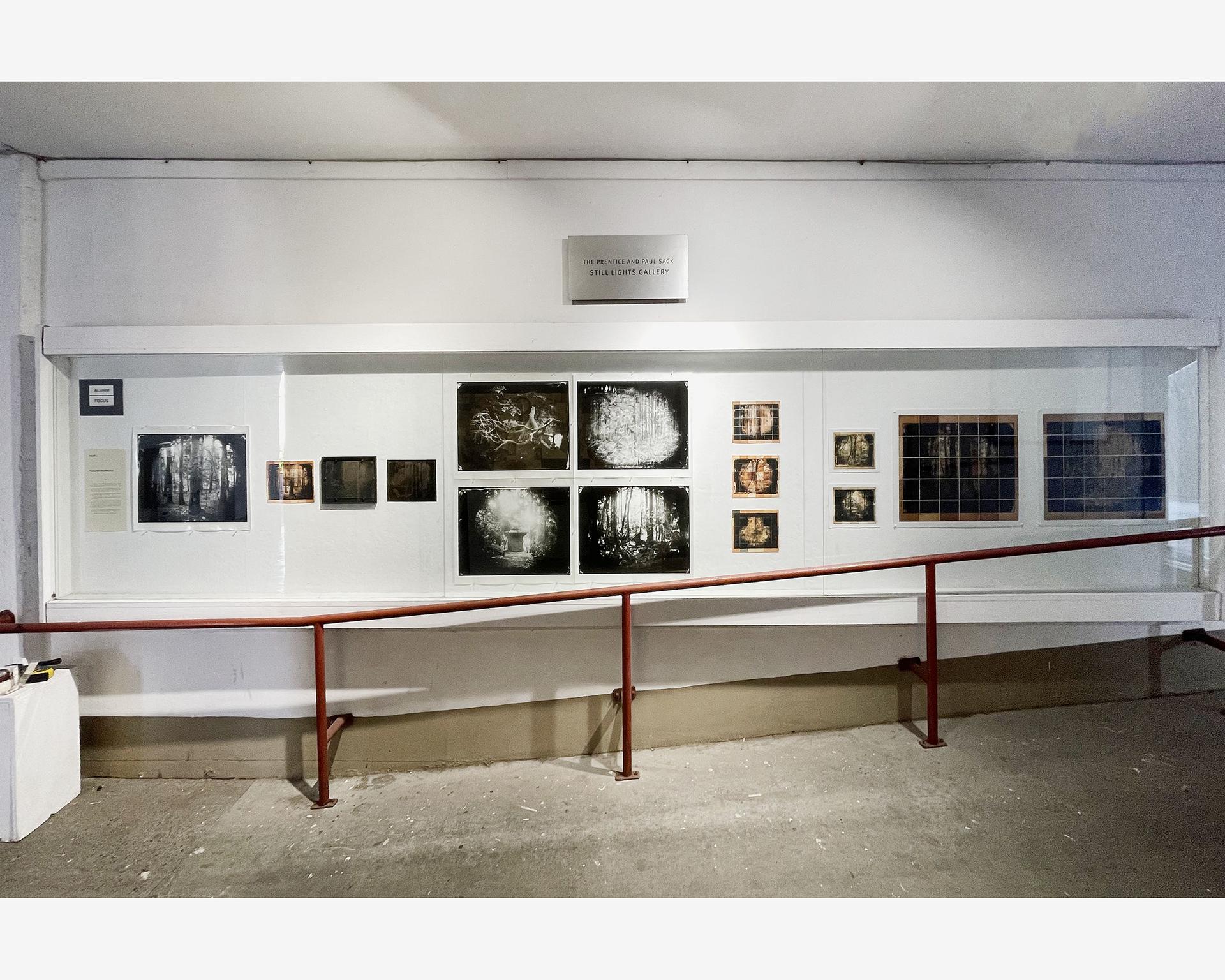 Alumni Focus featuring Yasu Matsumoto (BFA'01)
at The Prentice and Paul Sack Still Lights Gallery at SFAI.
Alumni Focus: A Project Connecting Alumni and Current Students Led by Linda Connor
Alumni Focus is a new series of photo-based exhibitions showcased in The Prentice and Paul Sack Still Lights Gallery [just off the courtyard] and curated by SFAI professor, Linda Connor. The first in this series of exhibitions features the work of Yasu Matsumoto (BFA'01). Whenever possible, current students in Linda's class will have an opportunity to engage with Bay Area alums as a feature of these exhibitions. We will be exploring more cooperative projects between alumni and students at school in the future.
Stay tuned!
* Unsolicited submissions of work are not being taken, please don't send.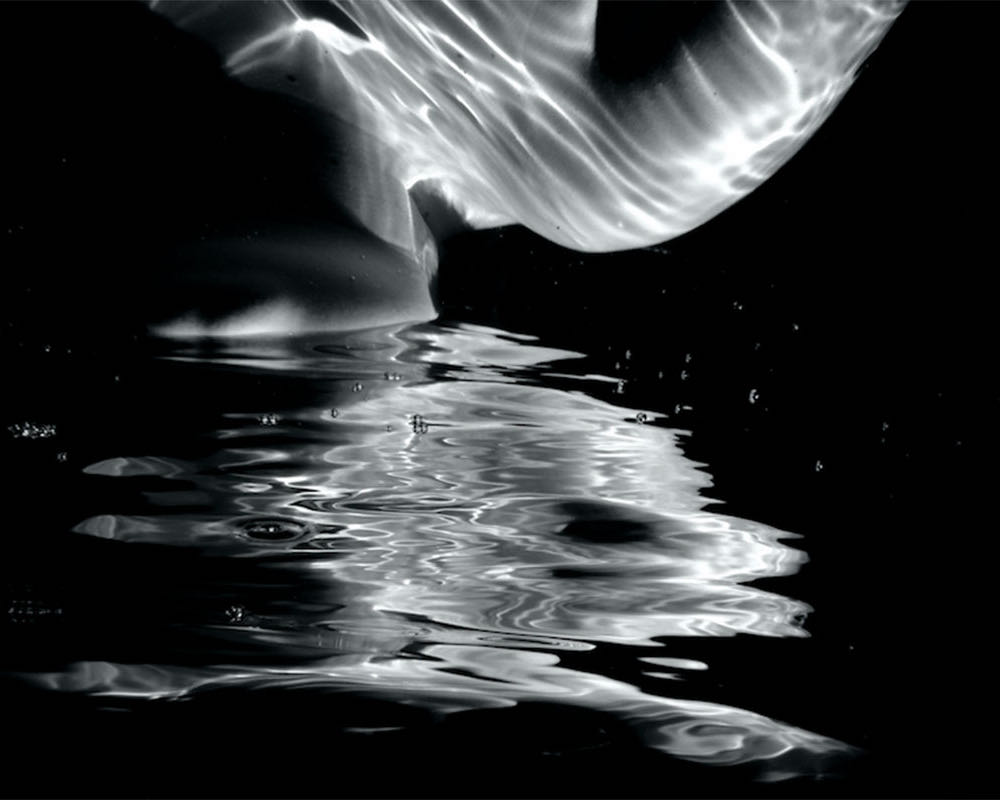 Katalina Prince, neMERmind, 2020.
"Opening" states what is "now" for this Summer, 2021 Low-Residency MFA cohort at SFAI. The opening of the now is reflected in artist-stated keywords such as transition, wounding, vacancy, opportunity, morphing, learning, revealing, emergence and portal.
The exhibition is featuring Dexter Woo, Eve Werner, Katalina Prince, and Todd Molinari. Read MORE.
Diego Rivera Gallery
800 Chestnut St, San Francisco, CA 94133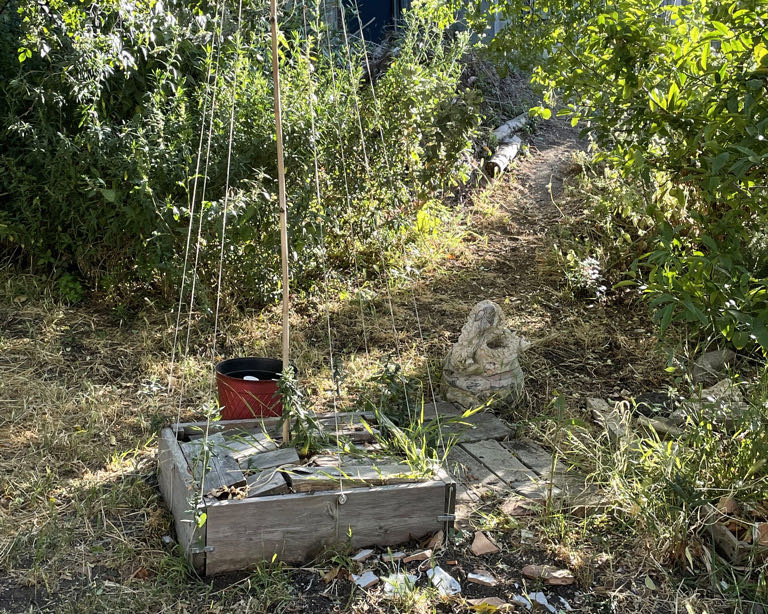 The Meadow at 800 Chestnut.
photo by Annie Reiniger-Holleb.
Green Thumbs Needed!
Sunday, October 2, 10 am - 2pm PDT
For a myriad of reasons, the Meadow at 800 Chestnut is in need of significant care, so I am reaching out on its behalf to organize as many hands as possible. Please join Elizabeth Travelslight and Genine Lentine in The Meadow at 800 Chestnut St for a volunteer work day, Sunday, October 2, 10am - 2pm PDT.
RSVP is required due to the pandemic health protocols. Send RSVPs to Elizabeth Travelslight: elizabeth@artandactivism.org.
Everyone welcome!
Shahryar Nashat's installation, presented by LA's David Kordansky Gallery at Independent New York 2020. Courtesy the artist, David Kordansky Gallery and Independent Art Fair
As SFAI alum are an international community, we've compiled a list of the top 20 forthcoming Art Fairs taking place worldwide this "Art-Fair Season." The whirlwind starts September 8th, and continues nonstop through October 24th!
September & October will be nonstop. Starting the second week of September will be London, New York, Moscow, Berlin, Paris. Other cities with shows include Barcelona, Milan, Zurich, Basal, Hong Kong and Seoul. Every weekend through the end of October (24th).(Please travel safe and wear a mask).
Check the schedule HERE.
FROM JEFF GUNDERSON'S SFAI ARCHIVE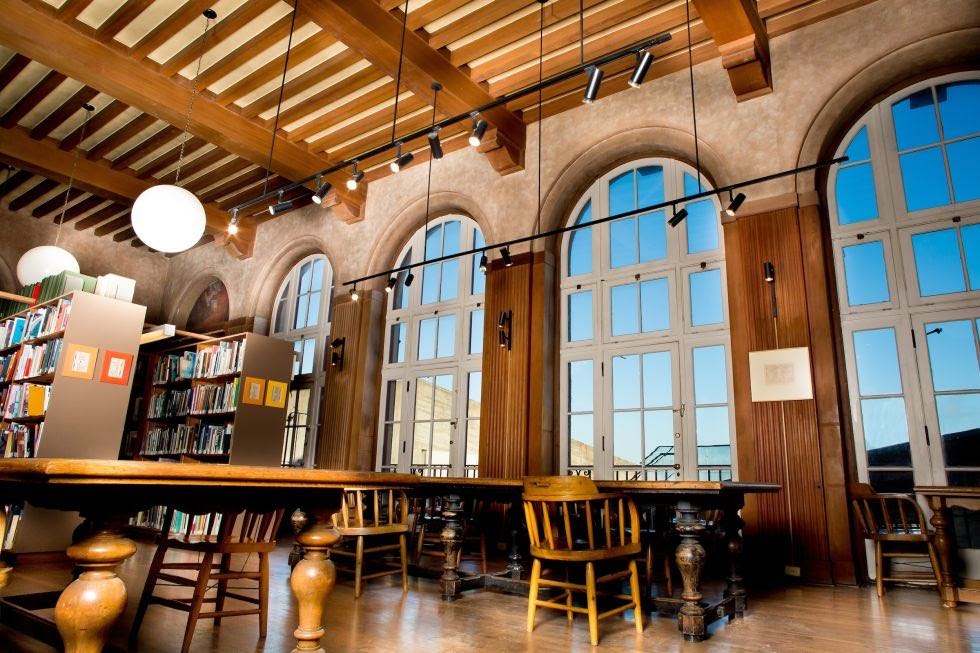 San Francisco Art Institute Library.
Photo by Marco Castaneda (BFA'18)
Many thanks to Linda Montano, Kathy Brew, The Svane Family Foundation, Ruth Chase, Adrian Card, Heather Jones, Linda Connor, Yasu Matsumoto, Dexter Woo, Eve Werner, Katalina Prince, Todd Molinari, Anglim/Trimble Gallery, Marco Castaneda, and Jeff Gunderson.
Editors: Annie Reiniger-Holleb, Lucien Liu, Marian Wallace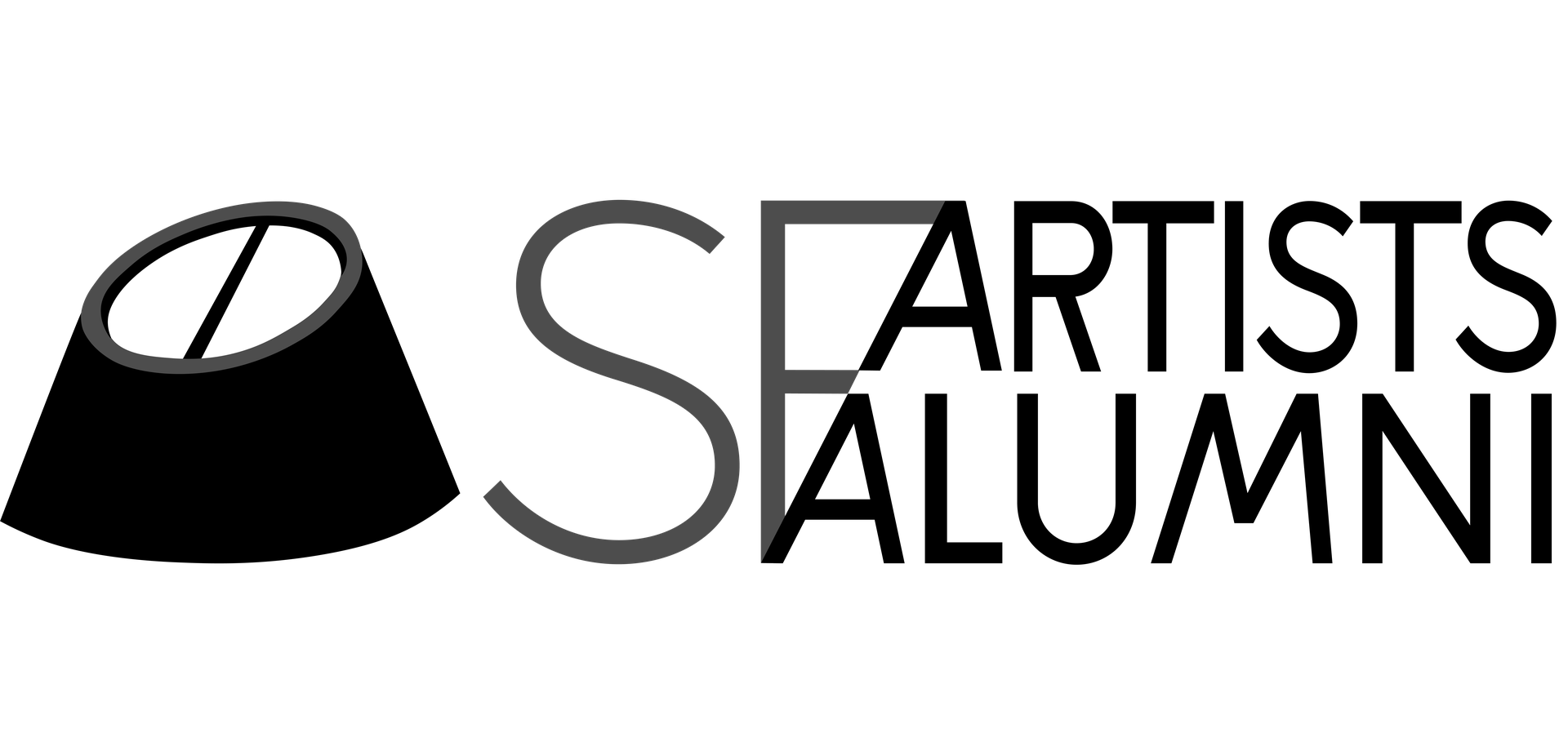 To contact the Editors at SFAA Newsletter email: SFAA2News@gmail.com
Or send letters to our address: Editors SFAA Newsletter 3019 Ocean Park Blvd. #123, Santa Monica, CA 90405
SF Artists Alumni Inc. is a non-profit, 501(c)(3) organization and our EIN Federal Tax ID number is 85-1943816.
Your contribution is tax-deductible to the extent allowed by law.