SFAA Newsletter August 2023
We wanted to update you about the ongoing effort of the SFAI bankruptcy trustee Paul Mansdorf to find a new custodian for the school's academic transcripts. In June California's Bureau for Private Postsecondary Education (BPPE) took custody over all transcripts from the years 1960-1999, which is great progress. BPPE will also obtain transcripts from 2000-2023 as soon as they are transferred from the server at SFAI. SFAA is supporting the efforts to make the transcripts available for alumni as soon as possible.
We will keep updating you via email. Please also check our website for more information.
SFAI LEGACY FOUNDATION + ARCHIVE

Photo credit: SFAI Archive
The new space for the SFAI archive at the Crown Point Press building in San Francisco (20 Hawthorne Street) is now open for visitors!
Here is a message and some photos from Becky and Jeff: 'We would love visitors. We are generally at the archive business hours-ish, but best to call or send an email ahead of time to make sure we're around and free if folks want to stop by. (We have an archives phone number now: 415-294-1113)'
More photos here
Read the SF Chronicle article here
Dorothy Cross "Relic" . Shark skin and pure gold leaf. 2009

For our September SFAA Spotlight we are featuring artist Dorothy Cross (MFA 1982).

Working in sculpture, film and photography, Dorothy Cross's work looks at time and transformation …. from shark-skins gilded inside with pure gold, jellyfish drawing themselves on linen, operas in handball alleys and slate quarries, and a kiss cast in silver taken from the inside of two mouths. Unexpected encounters occur between plants, animals and everyday objects resulting in at times, strange, hybrid pairings that range from the lyrical and sublime to the erotic humorous and playful.

RSVP HERE.
Opening Reception | Saturday, August 5, 2023 | 5-7 pm
On View | August 5 – September 2, 2023
Minnesota Street Project
1275 Minnesota St San Francisco, CA 94107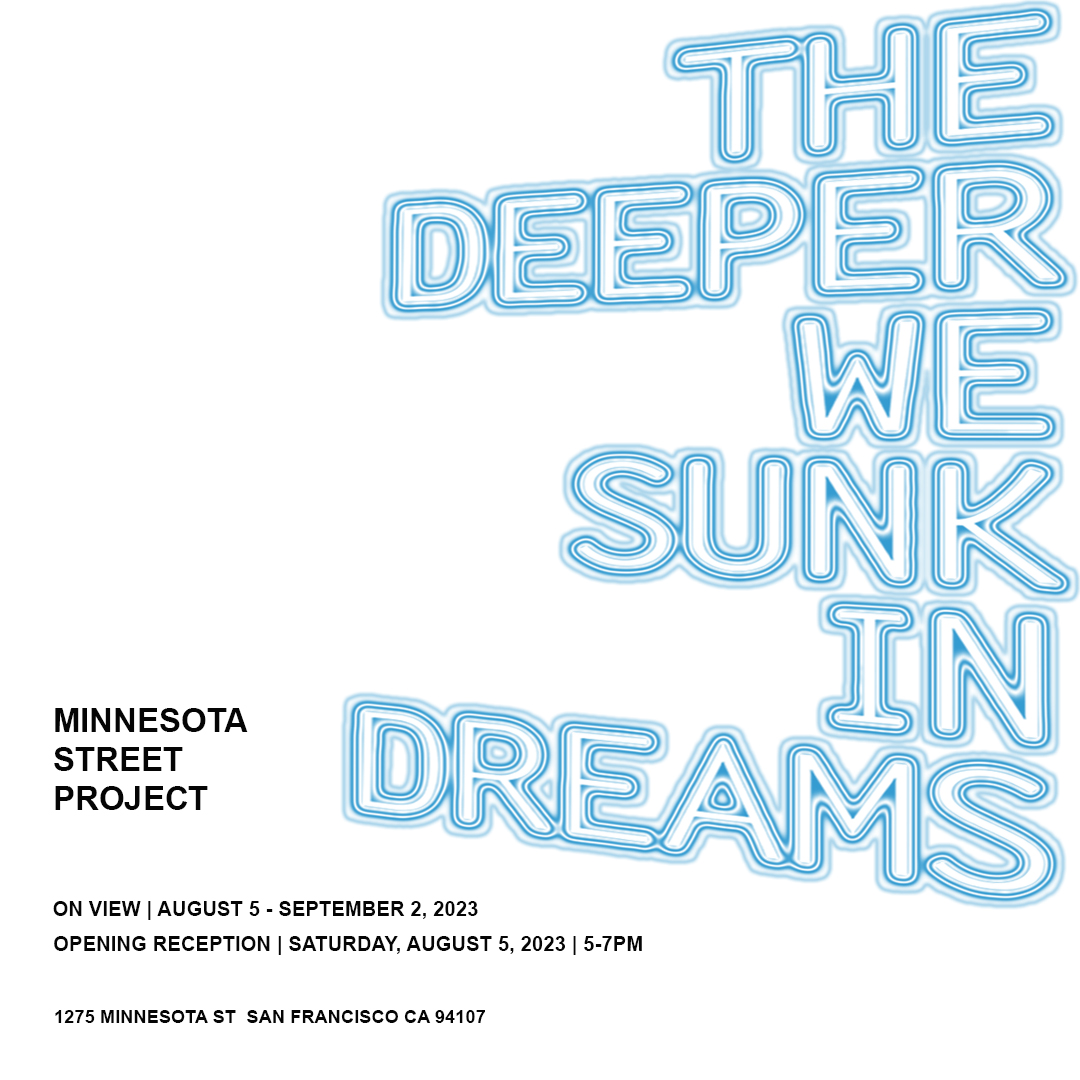 Artists: Blanca Bercial, Lexygius Sanchez Calip, Karl Daum, Christa Grenawalt, John James Hartford V, Whitney Humphreys, Katrina Magowan, Jeff Maylath, Shara Mays, Mareiwa Miller, Laura Pacchini, Evan Pettiglio, Collin Pollard, Rebecca Mae Sexton, Anna Sidana, Colin McEachran Smith, Miles Stemp, Lena Wright, Jasmine Zhang
We dream of distinction, of recognition, of change as we aspire for the things we were meant and made to believe, accepting the conditions on how we perceive the world and on how we want the world and everyone around us to see and receive us in return.
Much like a whisper, this exposition is in reverence to the passing of the beloved San Francisco Art Institute. It held a promise and a dream until it could no longer. And much like dreams, some we still do hold dear and some we have learned to let go. The Deeper We Sunk in Dreams emulates and mirrors that bittersweet aspect of life—fragile, beautiful, fleeting, and evanescent.
This exhibition is a diverse collection of works from a 2020 cohort of graduate scholars/artists who stayed and remained local. It stages their individual and collective dreams - ones that shape who they are, who they want to become, and the ones they continuously strive for to date.
In Flux: Recalibrating the Unknown
presented by SFAA at the Museum of Northern California Art (MONCA)
March 21 - May 12, 2024
Deadline: December 1, 2023
Submission fee: USD 25
IN-FLUX: recalibrating the unknown will feature works by SFAI alumni, staff, and faculty, and will be curated by Jeremy P. H. Morgan.

With the 2022 closure of the San Francisco Art Institute, a bedrock of contemporary American art education for 150 years as a backdrop, this exhibition will lean into the role of art in deciphering the current confluence of social, environmental, economic, and epidemiological challenges.

There are two components to the exhibit: artworks by individual artists and a collaborative site-specific installation to be constructed at MONCA. We invite you to apply with up to 3 individual artworks and/or for the collaborative project. Jeremy Morgan will make the final selections for the exhibition by January 15, 2024.
Best,
Eve Werner (MFA 2022)
IN-FLUX Exhibition Lead
Editor in Chief: Annie Reiniger-Holleb
Co-Editors: Marian Wallace, Rye Purvis
| | |
| --- | --- |
| | We are an independent non-profit organization run by San Francisco Art Institute alumni. We build upon SFAI's 152-year alumni legacy with a commitment to SFAI's core values of critical thinking, exploration, and expression. |
To contact the Editors at SFAA Newsletter email: news@sfartistsalumni.org
Or send letters to our address: Editors SFAA Newsletter
3019 Ocean Park Blvd. #123, Santa Monica, CA 90405
SF Artists Alumni Inc. is a non-profit, 501(c)(3) organization and our EIN Federal Tax ID number is 85-1943816.
Your contribution is tax-deductible to the extent allowed by law.